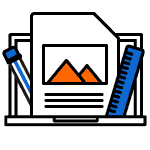 Promotion price is applicable to new registration only. For renewal, the price will be reverted to default price.
Exabytes is not allowed to claim the domain for your company if you did not reserve your domain with ACRA during your BizFile registration.
Your domain claim application status will be updated within 24 hours from the time of application.
This promotion is strictly for "com.sg" and ".sg" domains only. It does not include other Singapore domain extensions such as .org.sg, .net.sg, .edu.sg, etc.
If your reservation was made via ACRA's BizFile system and the reservation period has ended, your reservation will lapse if no activation was made and you will not be entitled for the promo. In addition, that domain name will be available for registration/reservation again by any party on a first-come-first-served basis.
You can only reserve one domain for each business or company in Singapore.
You must activate the domain name with us within 90 days from the date your business/company is successfully registered with ACRA.
This promo is open to all businesses/companies that are registered with the Accounting and Corporate Regulatory Authority (ACRA) on/after 5 October 2012
Exabytes reserves the right to amend any Terms and Conditions without prior notice.