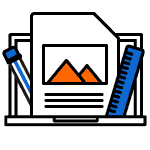 Promotion price is applicable to new registration only. For renewal, the price will be reverted to default price.
Prices are applicable for prepaid annual subscription. All prices are quoted in Singapore Dollars.
Promotion price only entitle for new signup.
In order to enjoy the special offers of the promotion, payment must be made during Promotion Period.
Once order is confirmed and payment is made, our consultant will have a conference call with you to understand your business within 7 working days.
Website design will take 7-14 working days. Upon delivery of the draft website, client must inform Exabytes of all the revisions/amendments needed in 7 working days. Failure to do so means client is satisfied with the website, and no further revisions/amendments are allowed.
Website design revisions/amendments requested by client will be completed by Exabytes within 7 working days. Request for revisions/amendments on the first website draft is limited to one (1) time only.
After website is confirmed and published, any request for amendments is chargeable for S$300/per page, except for customers who have subscribed to Instant Design package with Monthly Update Add-on.
Client's website will be designed based on the site builder template chosen by client. We do Not offer service to design website with your own custom theme, or modification of the existing site builder templates layout with coding.
Exabytes reserves the right to refuse any troubleshooting or content update request, if client has amended the codes in website template files.
Once payment is made for Instant Website Design, customer must have a phone interview with Exabytes SG within 7 days from the payment date. Failure to do so will result in forfeiture of full payment.
Once the first draft of website design is completed and submitted to customer, customer must respond and state all the revision needed within 10 days from the first draft submission date. Failure to do so will result in forfeiture of full payment.
For Instant Design packages with Monthly Update Add-on subscription:

Each subscription is limited to one (1) content update request for one (1) website per month.
Content update requests are only applicable to the pages that were created using Instant Design service.
Content update requests are limited to updating/replacing text and images. Amendment on web design layout, templates and additional pages are not applicable.
Strictly NO REFUND is allowed after confirmation and payment. Standard early termination charge is 100% of the prepaid amount of the remaining unexpired period.

Exabytes reserves the right to amend the Terms and Conditions without any prior notice.
You do agree to our terms of service available here.
Money-Back Guarantee is not applicable for Setup Fees, which is a non-refundable item.