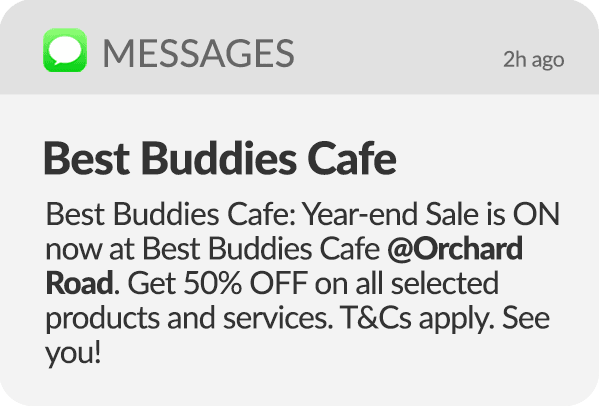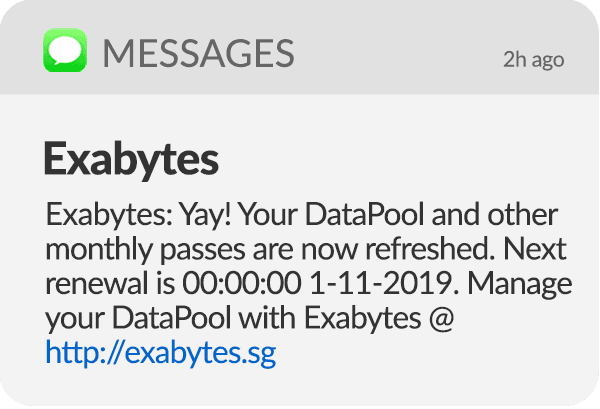 Price Per SMS (SGD)

0.05

0.048

0.046

0.044

0.042

0.041

0.039

0.037
Total Credits

1,000 + FREE 50 SMS Credits

2,000 + FREE 50 SMS Credits

3,000 + FREE 50 SMS Credits

5,000 + FREE 50 SMS Credits

10,000 + FREE 100 SMS Credits

20,000 + FREE 100 SMS Credits

30,000 + FREE 100 SMS Credits

100,000 SMS

100,000 SMS
Prices are subject to changes.
By using our Bulk SMS service, You agree to follow the Personal Data Protection Act 2012 (Act 26 of 2012), Spam Control Act (Cap. 311A), other applicable data protections laws, Guidelines for Using Commercial Electronic Messages issued by Direct Marketing Association of Singapore (if applicable) and Best Practices for Organisations (Unsolicited Communications) issued by Infocomm Media Development Authority. Exabytes will assist the regulatory authority on investigation regarding the official complaint lodged against Your use of this service, including (but not limited to) providing Your details (for example, name and email address)
Exabytes is not aware of and does not review, monitor or edit any content created by You.
You are responsible to obtain necessary consent from SMS recipients before sending messages to SMS recipients.
You must avoid:
– sending SMS or broadcasts, whether it is to promote a product or service or trick users into providing financial account or payment card details, to a person who (a) has not consented to receive messages; or (b) is listed on Do Not Call Registries.
– publishing, posting, sending, distributing, disseminating, submitting or uploading content that :
(a) abuses, harasses, stalks, threatens or otherwise violates the rights of any third party;
(b) is defamatory/ libelous, obscene, offensive, fraudulent, demeaning, immoral, harmful, indecent, sexually orientated, racially/ religiously offensive, profane, rumour, pornographic, misleading or otherwise objectionable or unlawful;
(c) contains viruses, corrupted files or any other similar software or programmers that may damage the operation of the Exabytes or third party's computer system or network.
You authorise Exabytes to disclose Your identity to SMS recipient on his or her request.
Exabytes reserves the right to remove any content. Exabytes shall not be liable for such removal in response to complaint or notification.
 You are allowed to change Your brand name. Changing Your brand name for the first time is free of charge. For subsequent requests, SGD150(before taxes) is chargeable for each request regardless if the request is successful or not.
SMS credits and fees payable to Exabytes are strictly not refundable and not transferable.
Kindly email us at

[email protected]

for further enquiries.
By subscribing to our service, you agree to comply with our terms of service available here, guidelines and all conditions promulgated by mobile/ network operators, local regulators, and our service providers.
Exabytes reserves the right to amend the Terms & Conditions without any prior notice.